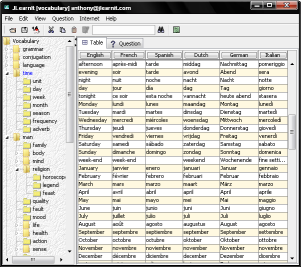 15 languages: English, French, Spanish, Dutch, German, Italian, Hebrew, Portuguese, Swedish, Danish, Norwegian, Hungarian, Russian, Latin and Czech.
More than 35,000 English words.
Fast search for words, even incomplete.
Translator (word by word translation).
Can be installed on your computer (PC, Mac, Linux):
http://www.jlearnit.com.
Choose online dictionary
The web pages are also available in French (en franšais), in Spanish (en espa˝ol), in Dutch (in het Nederlands), in German (in deutscher Sprache) and in Italian (in italiano).